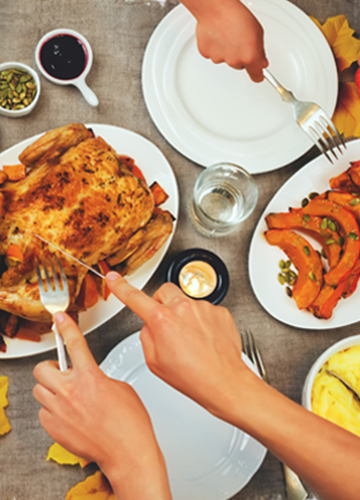 Thanksgiving Dinner, Fort Lauderdale Style
November 28, 11am - 8pm

Thanksgiving is meant to be spent surrounded by family; why waste the day cooped up in your kitchen? This year, let the chefs at Shooters treat you to a homestyle meal — without the home-cooking hassle. If you're looking to change things up, join us for the evening and eat your fill alongside the Intracoastal for $56 per person, children 12 and under $26, and 5 under complimentary. Tax is not included, and a la carte menu is not available.
Carving Station
Herb Infused Roasted Turkey
Honey Glazed Ham
Prime Rib Au Jus
Salads
Mixed Fields Greens Salad
Roasted beet Salad
Mesclun Greens, Cherry Tomatoes,
Pumpkin Seeds, Pickled Red Onions,
Goat Cheese, White Balsamic Vinaigrette
Sides
Traditional Stuffing
Mashed potatoes & Gravy
Sweet Potato Casserole
Green Beans Almondine
Macaroni & Cheese
Corn Succotash
Cranberry Sauce
Dinner Rolls with Honey Butter
Desserts
Pumpkin Pie
Apple Pie
For a more traditional night, order out
We make Thanksgiving dinner to go, complete with roasted turkey and classic sides. Place your order before Monday, November 25 to guarantee your best Thanksgiving dinner!